Cecilia Roy, M.S.- Program Supervisor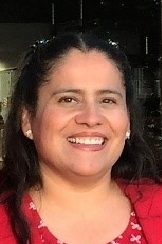 I was born and raised in Guadalajara Mexico. I'm bilingual English-Spanish and bicultural. I received my BS in Psychology through the University of Guadalajara; and a MS in Psychology through University of Phoenix; I am currently working on an ABA program towards BCBA certification. I'm a Triple P accredited practitioner for Primary Care Brief intervention and Group modalities.

I have been facilitating parenting classes for the past 15 years through different non-profit agencies in the Mendocino County Coastline area. I was trained in Second Step, a Social Emotional skills building and violence prevention curriculum which I taught to preschool-K children from local schools and child-care centers for 5 years. I had taught support groups for women, parents, teenagers, and parents with teenagers; as well as school readiness groups for young children with no access to preschool education in our community. I worked at a local Head Start for 2 years right before joining the IECP team in January 2014. I'm a program supervisor covering the Mendocino Coast and the Anderson Valley areas. I have a passion for helping and advocating for children and their families as well as to help them to acquire those skills needed to make a difference in their lives.


---